Appledore Oysters - Barb's newest and greatest brand!
Now in her 4th decade as an oyster aquaculture pioneer ...
Barbara Scully graduated from UNH in Durham NH in 1986, moved to Maine, and has been growing oysters ever since. While attending UNH, it was at the Shoals Marine Laboratory on Appledore Island that her love for Maine living and marine science was born.
The Appledore Oyster brand is a tribute to Barb's Maine roots at the Isles of Shoals, and the special island community of educators and scientists that ignited the spark and fueled a lifetime of exploration, experimentation, and excellence in contributions to the field of oyster aquaculture.
The Edgecomb Shore of the Damariscotta River produces a superb slow-growing beach style oyster along its' edges. These boutique oysters are grown in extremely shallow water, and are often exposed at low tide, where they are warmed by the rays of the sun before being resubmerged in the cold, nutrient dense water of the lower estuary. The oysters have a deep cup, hard shell, and classic shape of a cold water Maine grown oyster.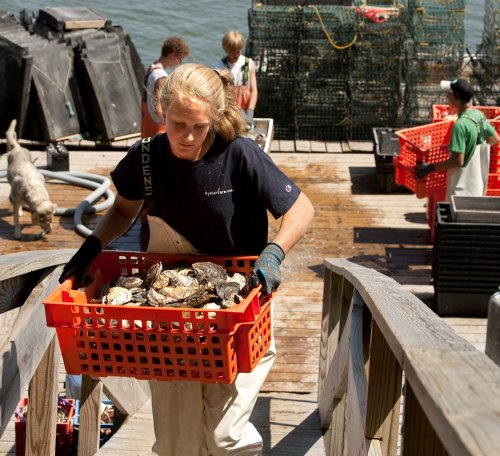 Holding shellfish in a wet storage raft for an extended period of time prior to shipping enhances the quality and shelf-life.
Barb has designed and built several oyster holding rafts for her operation, which flushes the oysters with much colder sea water than the leases themselves. The oysters purge of grit and sediment for a period of 2-4 additional weeks post-harvest, repair shell damage caused by harvest, and strengthen prior to sale. The resulting flavor is pure, crisp, bright, refreshing.
The cooler water circulating through the rafts also provides a measure of safety during the warmer months when vibrio can be a concern. The oysters are then washed in small batches, quickly chilled, hand sorted, and inspected prior to sale. The result is a consistently superior quality oyster.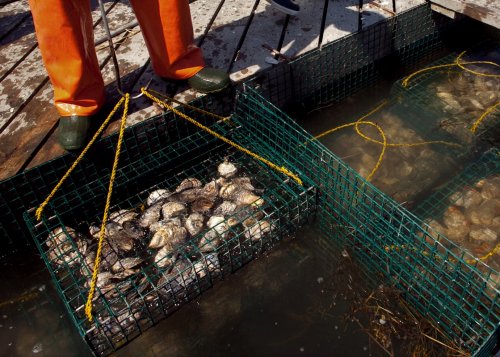 Look for new varietal names in our retail shop as they become available.
In addition to the Appledore Oysters which Barb grows and harvests, Scully Sea Products partners with neighboring Damariscotta River oyster farms to bring you a variety of the finest oysters and clams grown in Maine.
Oyster varieties currently available are Appledore Oysters, Appledore Flats (Belon), Norumbega Oysters, Dodge Cove Oysters, Ring Point Oysters, Damariscotta Wild Oysters, Ugly Oysters.
As you may recall, Barb's original brand was Glidden Point Oysters, she sold that company a few years ago.